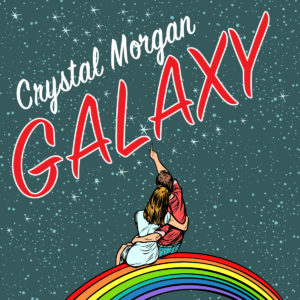 14 September 2018 (LOS ANGELES, CA) – Crystal Lee Morgan released a brand-new song, "Galaxy". The song premiered on SoundCloud. Listen to "Galaxy" HERE.
The single was recorded at Interscope Records in conjunction with a nationwide songwriting competition on the new app Wurrly.  Crystal Lee Morgan competed by writing the lyrics and melody in four separate entry songs from a selection of freestyle tracks on the WURRLY app. Crystal was announced as the winner in August, winning the grand prize of a studio session at Geffen Records in Los Angeles (CA), with expert A&R and production advice from Neil Jacobson – the President of Geffen Records.  Though Neil was not available for the meeting, Evan Schoebrun (A&R) and Andrew Boyd (Sound Engineer) were excellent hosts for the session.
Wurrly LLC Music Director, Tal Meltzer composed the original freestyle tracks for the Songwriter Showdown.  He produced Crystal's song using a fifth freestyle track called Equated featuring a beautiful solo acoustic guitar.  Tal and Crystal wordsmithed the song to perfection and worked together to uncover something truly special.  Wurrly LLC Executive and Founder, Nadine Levitt spoke with Crystal Lee Morgan providing insight and joy during the recording session.  
"Nadine is the kind of person who draws you in completely with her genuine love for music.  Her app, Wurrly, gives me one place to sing thousands of songs my way, building real content for people who love my voice and popular music."
Crystal Lee Morgan is currently in studio working with Devin O'Loughlin and is set to unveil more new music in the coming weeks as well as many more new songs on Wurrly.
"I try to have as much fun as possible when recording a song on Wurrly and when writing my own music.  I can give more when I'm in love with what I'm making.  I recently recorded a batch of songs during a morning run, which included a fun version of Baby One More Time.  One of my original entries for the Songwriter Showdown was recorded by the Monongahela River, after I missed a Yoga class.  Music is all around us and within us.  It is the passion of my life and I want to help more people tap into that to improve the quality of life for us all.  I want to hear you raise your voice!" – Crystal Lee Morgan
#RaiseYourVoice #Wurrly #SongwriterShowdown #Galaxy #GeffenRecords #InterscopeRecords #Music #MusicIndustry #InterscopeRecords #Artist #WorkHardPlaySongs
Follow Crystal Lee Morgan: