Learning to Play & Finding So Much More
I'm pretty good at learning technical things, but accompanying myself while playing has always been a great challenge.  In 2015 when our band Grey's Fool changed musical direction, I started playing solo gigs.  This anniversary is coming up because it was also the first year that I played the Deutschtown Music Festival.  I had literally been spoiled by working with a guitar player who could read my musical mind melodies.  I could just sing and he just played and it was perfect.  The writing process was not as smooth when I started picking up my neglected guitar.  My skill level wasn't exactly where I had left off and that turned into this complex about not being a good enough professional player, (cough cough perfectionist).
Under the Influence
I saw Jason Mraz play a uke at NAMM.  The idea of a uke wasn't in my mind right away and greatly doubted my ability to learn a new instrument when it was suggested.  I only knew of like 2 songs on the uke, so I wasn't fawning over it.  When listening to music at Starbucks, I heard this girl named Zee Avi.  She also played the uke and I learned that she was on my dream label – Brushfire (swoon!).  After several day dreams of the Pacific Ocean and listening to everything from Bahamas and Jack Johnson, I decided to pick up my Cordoba Tenor Ukulele who I named Coco.  I found her at a local store called Pianos and Stuff.  Pretty cool name and really cool staff.  If you don't live in Pittsburgh, PA – you can also find your Coco online via the Amazon link above which goes directly to the Official Córdoba store.
I spent many formidable years in my hometown of Belle Vernon, PA.  It's a football, mill town.  At the time, the Leopards were undefeated.  Football players carried the ball with them constantly or maybe that was a movie and I'm losing my memory… I'm not sure but maybe Mario will fact check me.  Anyways, I decided to be a champion with the Uke and take the same approach keeping her in my hands as much as possible.  I played before I went to sleep and I played as soon as I woke up.  I took Coco everywhere and printed a Uke chord sheet from the internet.
My First Tune!
It took me only a few days to write my first tune "Songbird".  I wanted to use different progressions and could play so many more notes without the strain on my wrist when I played guitar.  This was awe inspiring.  I could quickly find the best way to support what I was hearing in my head when writing, which I had only come close to with fumbling on my keyboard which I was never home enough to be around.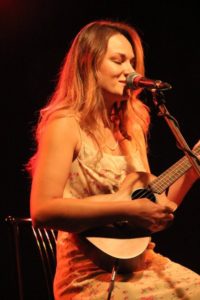 Why Cordoba Knocked This One Out of the High Line Park
I think about the freedom of my lightweight Ukulele, the beautiful sounds she makes are consistent whether plugged in or acoustic.  Coco has traveled with me to visit many states and played many shows.  Coco has kept me pretty pleasant while stuck in summer roadwork on the way through Kentucky.  She's been held by wonderful musicians and has helped me share my heart with beautiful music.
I suggest the Cordoba Tenor Ukulele for the rich sounds.  She's been through very rough weather conditions with me, including playing outdoors in New York City's High Line Park.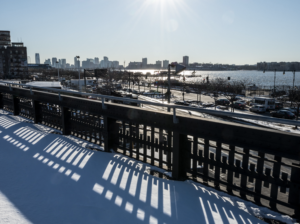 Who Needs a Uke Friend?  Everyone!
Beginner or seasoned musician, if you are looking for a musical instrument friend, I recommend the Cordoba Tenor Ukulele.  Like I said you can check out so many cool online resources and can find local meetups and inspiring stories about Ukuleles like the Ukulele Kids Club.
I keep Coco at work to noodle with when brainstorming.  It helps a lot to have a Uke nearby.  It's almost like having a pet who instead of purring makes music.
Tenor vs Soprano
Okay – this is just my personal thing, but I feel like I'm squished when playing a Soprano Uke.  I like the sound, but I want to play music not feel like my arms are wearing skinny jeans.
I referenced a Ukulele guide like this when I was initially interested in purchasing, but it was much dryer with more information.  You can find those anywhere.  My experience is totally personal.  My Ukulele is a part of my life and my music so it's very much an energy vibe vs tech specs.  Each person hears and experiences music differently so you should get out there and try out the instruments to see what feels right to you and find your connection to your music.  If this is speaking to you then get out there…. your Ukulele is waiting to come home.
Here is what Cordoba says about Coco:  Córdoba ukuleles capture the charm of traditional Portuguese ornamentation and exotic woods. Completely handmade, the 20TM-CE is a tenor sized ukulele with a solid mahogany top and mahogany back and sides. It features a soft cutaway and Córdoba electronics so that you can plug and play. The tuner will be a Cordoba or Guild Branded Tuner. Includes Cordoba standard gig bag.